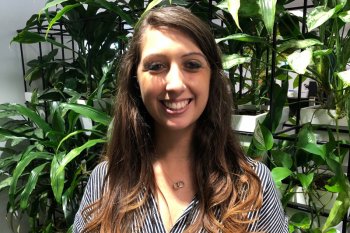 Grey joined Hort Innovation last November taking on the role that Monique Emmi had been managing with the support of Raymond Carbonaro while a new person was recruited. She was previously working at the global health, home and hygiene fast moving consumer goods company, Reckitt Benckiser, where she spent the last four years in marketing, trade marketing and sales functions. In her most recent role, she was Brand Manager for Veet, Durex, Clearasil and Steradent.
With a Bachelor of Commerce (Marketing) and a Bachelor of Law from UNSW, Grey is a passionate 'foodie' from Sydney who is enthusiastic about bringing nourishment and joy into people's lives through fresh produce. Characteristics that will suit her well in looking after the apple and pear category.
She said that her preliminary impression of the apple and pear marketing campaign in 2017 was positive. "There is no doubt that 2017 has been a successful year from a marketing perspective. We have been able to reconnect with consumers through a new message and TV ad, as well as the Netball Australia partnership.
"Market research reveals that ad recall amongst our target audience has been consistently building since the campaign commenced in March 2017."
She added that the team's key focus in 2018 will be extending the campaign and finding new ways to leverage the 'Get your crunch on' message that is resonating so well with consumers.
At Hort Innovation, Grey will also be managing marketing for raspberries, blackberries and turf.
"A high-quality marketing programme is vital to our industry to grow demand and improve returns for growers," said APAL CEO Phil Turnbull. "We want to keep improving the results that we get from the industry's marketing investment and we look forward to working alongside Olivia and the rest of the team to drive better outcomes in 2018."
APAL said it would also like to acknowledge the significant support provided by Emmi during her time overseeing apple and pear marketing in 2017. She is a Marketing Programs Manager at Hort Innovation and her knowledge and experience overseeing the marketing programme for the industry over the last year have seen it improve. Emmi will continue to provide oversight to the programme.
Source: APAL